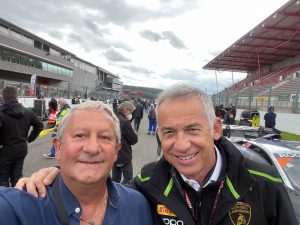 The airplanes zip through the sky of Lombardy leaving behind white trails, evidence of their passaging. In many parts of this vast and populous region you can raise your eyes at any time of the day and see many of them in the sky. The immense world is made small by these carriages of our time, extraordinary machines that often have the power to shorten the space that passes between a dream and its realization.
Egidio Reali builds models of cars, the best ones in the world. To be recognized as the best manufacturer of all, he had to catch hundreds or perhaps thousands of planes, travelling a lot during the twenty five years of life of his company. It is called MR Collection and based in Gerenzano, half an hour by train from Malpensa International Airport. A company which has established itself as a worldwide leader, becoming the official supplier of the most prestigious brands in the universe of motoring. Since 1988 when his company was founded, he has travelled to every corner of the world, more and more frequently, longer and farther. Then Egidio did not know where he would arrived, but he knew where he wanted to go.
Egidio is not a suit-and-tie man. When you go to see him at his factory he almost always wears the white coat of a craftsman or artist, as he is often called. White, like a surgeon's. Even today, despite the fact that his company has grown in terms of production, sales and staff, he firmly insist on personally checking his model cars. All of them. The company located in Gerenzano is small, but it has established itself in the world of model making with the strength of a giant by building relationships with the largest car manufacturers in the world, sharing their productive paths, insights and standards.
A miniature multinational company which owes its success to Egidio's insatiable desire to achieve increasingly important goals, year after year. A desire that has always driven the Lombard entrepreneur during his history, nourished by the ability to dream with open eyes, looking up at the sky, asking questions whose answers represent the goals to achieve throughout his life.
Born of modest family origins, Egidio grew up in the suburbs of Saronno, where life was not so nice and cheerful. As a child, he used to watch the planes go by while playing in the yard with friends. They disconnected him from reality and made him dream, leading him to imagine traveling with other passengers on board. «I wonder where they go, what they do. I want to board those planes and travel around the world, someday», he thought, «I want to be an international businessman». Egidio starts to tell his story: "I thought that one day I would take those planes to do something big. To go everywhere, even in America. It was this hunger, this desire that has driven me in all these years. This is why I consider myself lucky, because I can say that I have realized my dream, opening my once very narrow horizons to the whole world, interacting with many cultures in different countries, discovering and learning each time something new and intriguing. I have learned through my own experience that «people doesn't make the trips, trips make the people». What I have become today, with my work and my company, is due especially to the many trips I took, the people I met, learning how to relate to them. «Live and dream», I have always said. And it is thanks to this philosophy that I got where I am today".
Mr. Egidio Reali in his meeting room.
Egidio Reali, the model-car maker who has become the reference point for all major automotive manufacturers in the world, smiling he describes himself as a «psychopath for detail», a definition that fits perfectly. "I have pursued beauty and perfection since I was a child, to the point that if I had done anything else in my life I would have done it with the same commitment and results, with determination and a tireless desire to always be one step ahead of the others. Exactly as it happened with MR Collection and car modeling.
I love cars like many people, but this is not the only thing that drives me in my work, nor is the economic aspect.
The ability to meet extraordinary people, like those I met in the course of my career, is invaluable: it allows you to learn a lot and see the world in a different way. There are many other jobs more profitable than car modeling, but very few of these could give me what I learned by coming into contact with the excellence of the automotive world: it is a constant and limitless supply of stimulation for the mind, the engine of all we do".
His desire to chase perfection led him far away, helped by a work ethic that has deeply imbued him since childhood. "My family was not a wealthy one", says the self-made man from Lombardy, "and I had to arrange for my own sustenance and to pay for my studies. After the end of the school, while others went on holiday, I used to search for a job. I spent my summers working, apart from ten days in August, until school started again. I know what it is like to struggle doing jobs that break your back. The figure of my father has been very important in my life. I inherited from him seriousness, respect, commitment, sacrifice and a sense of duty, all important values. Even at the beginning of my business, when things were already going pretty well, I never stopped working. For the first twelve years there were no Saturdays or Sundays for me, but only the unshakeable will to make the company grow and reach new goals. It was not easy, but I had the luck to meet the right people along the way, including my wife, Sara, who has accompanied me since the beginning and has lived this adventure with me".
Although today MR Collection is a well-established company, with cutting-edge headquarters and production processes of the highest level, at the beginning all this had to be built from scratch. Egidio made it all, grasping opportunities that life put in front of him. "I started working in this field creating models on behalf of some stores. I was in my twenties, and through this job I could gain enough money to live and attend university courses. It was not easy for me to understand what to do at the time. On the one hand I saw a lot of people make their way in this world, often with a family history that was different from my own: they could count on a solid economic background to help them after graduation. On the other hand, the activity of car modeling continued to grow. Thus, in 1988, I decided to make this little job a real business, and I founded MR Collection Models. I was only 22 years old and for me it was all new. I have never been scared since then, nor stopped. I have a small regret that I never completed my studies, it would have been a further satisfaction, but to maintain that commitment too was objectively impossible: it was just too hard".
A twenty-five year journey that started from a workshop on the first floor of a small building. "To rent that space I borrowed two and half million Italian lire from my mother", says Egidio, "which I had to return promptly. So I started my adventure in such ramshackle rooms heated by portable gas heaters. For the first three years I worked as a subcontractor, then I decided to take the leap and produce models directly with my brand. I have always aimed high, producing handcrafted top-car models: the first one was a Porsche 911 Turbo S. The company grew year after year, but it was not easy. Try to imagine a guy in his early twenties and without any experience who has to deal with all the problems of a small business, including the first employees. Or try to think what it means to leave Milan by car all alone, arriving at Nuremberg's fair very early in the morning, to set up the stand and work from eight in the morning until midnight having dinner with clients, all of that for a whole week. Then I had to repackage everything and drive in the middle of the night to be at the office at nine o'clock the next day. It was very hard but also wonderful, and the challenge repaid all the sacrifices. Although in those years I worked day and night, today I find myself with more thoughts about my business. Now it is another world, with very different problems related to business management, product promotion and marketing rather than the simple production. Today MR Collection operates as a small corporation, as some people define us. With the proper proportions, we have the same critical issues that major automotive groups have, but also the same production standards".
To achieve this level, Egidio has always had to stay one step ahead of the others. This is demonstrated by the launch of the production factory that MR Collection opened in China in 1996. "I pioneered going to Asia to open a workshop of hand-made resin models, maintaining the handcrafted component of our work", he says, "and now all the others are doing what I did. Among the many things I am proud of is that I never had to follow, maybe because my sign of the zodiac is Leo and I always like to excel. MR Collection is always at the highest level in technological innovation, in manufacturing solutions, in coming to market with the first models of the top-cars, thanks to the strong relationship we have developed with the leading and most prestigious car manufacturers over the years".
Egidio has pursued the dream of finding fulfilment through his work all his life, and the world has welcomed him in his international dimension. "Today I travel frequently and am used to getting on and off airplanes. Although the world of top-cars is restricted and exclusive, the true values are ideas, innovation, research and eyes that are always pointed toward the future. This is what I have learned in these twenty-five years, and this is the most precious treasure of my journey. Values that have made me understand how worthwhile it was to invest in growing my business". Egidio had a lot of satisfaction in the course of his working life, but the greatest is to feel now part of the excellence that he has always pursued and dreamed. "When I was young I admired the supercars of the time, like the Countach, which cost two hundred and fifty million lire when an employee earned an average of a million and a half lire a month. It was an impossible dream. Today I am very familiar with those cars, and I am also lucky enough to drive them frequently. However, the really good thing is to share experiences with the designers of those supercars, making them real, and to find myself involved in a work environment that was hard to imagine when I was a kid".
A virtuous circle made of determination, ability and unshakable enthusiasm. An example for all those who want to realize their dreams. "I have worked all my life to pursue my dream", he says, "and in the end I did it. But I do not feel fully accomplished. Every day I set new goals, not only in the world of modeling but in my life too. I never stop dreaming. Almost without realizing it twenty-five years have passed since my early steps, and the hunger that moves me has never subsided, in spite of the great successes that I think I have achieved".
Airplanes continue to fly across the sky of Lombardy. But today Egidio is on board a lot of them, reaching the four corners of the world and continuing to efficiently manage all the personal and business relationships that allow him to make small jewels in scale 1/18 and 1/43, which are the dream of car enthusiasts. After so many aircrafts and trips, sacrifices and achievements, that kid who used to raise his head to the sky and dream of a new plane to catch, a new challenge to overcome, a new wonderful story to tell, is still there.
Travels & Events